Thrive Rural Open Field
Thrive Rural Open Field sessions are relaxed virtual gatherings where practitioners and leaders from rural and Native nation communities can meet, share stories, swap lessons, and build community.
Join us and hear practical techniques from seasoned practitioners that you can implement in your work. Sign up for our mailing list to make sure you're invited to our next gathering!
---
Thrive Rural Case Studies
Thrive Rural case studies, What's Working in Rural, highlights success stories from practitioners on the ground. We break down important elements of the topic and provide tips for implementing the practice in your community or organization.
---
Thrive Rural Action-Learning Exchange
The Thrive Rural Action-Learning Exchange (TRALE) is an integral part of generating insights about what works and what's needed to propel policy and practice toward producing well-being for more rural people in more communities and regions across the nation, especially in areas of concentrated poverty.
In the TRALE process, Aspen CSG convenes a wide-ranging set of rural practitioners, advocates, policymakers, and others to address an "action gap" that stands in the way of changing systems and/or behavior critical to driving rural progress.
Quickly tapping on-the-ground insights and experiences helps generate breakthrough thinking about what works and what's needed to push rural policy and practice forward.
Measurement
Our first TRALE process focuses on six principles for measuring rural development progress to open and deepen conversations about better ways for funders and investors to design programs that consider lower-capacity communities' realities, needs, and goals. 
Natural Disaster
Our second TRALE process focuses on five principles to move rural and Indigenous communities away from a costly "patch it again" cycle and focus on advancing community prosperity outcomes — even in the face of more intense climate disasters. 
Outdoor Recreation
Our third TRALE process focuses on five principles to create an equitable outdoor recreation economic strategy. As new rural outdoor recreation economies take root, we can meet this moment by improving how we do outdoor recreation development to better support rural families, businesses, and workers, create more sustainable and equitable economic systems, and improve local health and wellbeing.
---
Reimagining Rural Assistance Network
The Reimagining Rural Assistance Network (RRAN) is a focused, nimble, diverse coalition of rural development advocates, experts, and practitioners that came together in March 2021 in response to the significant expansion of federal funding. The group is composed of organizations such as Appalachian Community Capital, Aspen Institute Community Strategies Group, California Center for Rural Policy, Communities Unlimited, Inc., The Brookings Institution, Housing Assistance Council, Region 5 Development Commission, Rural Community Assistance Corporation, and RuralOrganizing.com Education Fund.
This work led to the creation of Aspen CSG's Federal Resources page, which provides timely updates on federal resources and stakeholder input opportunities.
While RRAN works to support the Rural Partnership Program (as part of a smaller, negotiated Build Back Better or part of the 2023 Farm Bill), RRAN is also engaged in the potential reauthorization of the Economic Development Administration (EDA).
---
Rural Opportunity and Development (ROAD) Sessions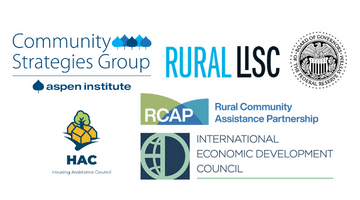 The ROAD Sessions highlight and unpack rural development ideas and strategies that promote access to inclusive economic opportunity and long-term resilience. ROAD Sessions feature stories of on-the-ground practitioners with experience, wisdom, and savvy to share. The series reflects and emphasizes the full diversity of rural America, spotlights rural America's assets and challenges, and lifts voices and lived experience from a wide range of rural communities and economies. Each Session includes an added opportunity for peer exchange.
Overall, the ROAD Sessions aim to infuse practitioner stories and lessons into rural narratives, policymaking, and practice across the country and to strengthen the network of organizations serving rural communities and regions.
The ROAD Sessions are virtual exchanges co-designed as part of Thrive Rural – an effort of the Aspen Institute Community Strategies Group with support from the Robert Wood Johnson Foundation – and in collaboration with the Housing Assistance Council, the Rural Community Assistance Partnership, Rural LISC, the International Economic Development Council, and the Federal Reserve Board.