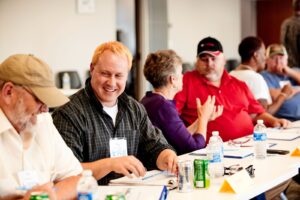 Aspen CSG is building the number and capacity of community- and region-focused foundations that are taking leadership on – and making a significant difference in – improving the economy and livelihoods in their places.
For more than 20 years, Aspen CSG has worked with place-rooted community and regional foundations – and place-focused national and regional foundations – to better understand the wide range of assets and tools they can develop and deploy to strengthen local communities and economies.
We engage one-on-one with foundations in strategic planning, board development, community analysis, program design, and geographic affiliate and fund development. We organize and facilitate multi-year peer-learning clusters for community foundations.
This work has included the creation of several Community Leadership Networks with CFLeads for foundations taking leadership on critical issues in their communities.
In 2015, Aspen CSG began a partnership with the Center for Rural Entrepreneurship to advance Community Development Philanthropy – helping community and regional foundations play new and stronger roles in building family, community, and regional prosperity.