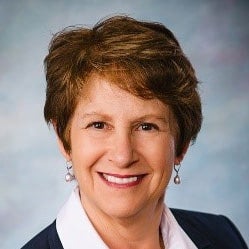 Nancy Van Milligen
Nancy Van Milligen joined the Community Foundation of Greater Dubuque as their first President/CEO on February 1, 2003. The Community Foundation is a non-profit organization that serves 7 counties in NE Iowa, with the mission of strengthening communities and inspiring giving, with equity as a core value. Nancy has a Master of Public Administration from Southern Illinois University.
Through her leadership, the foundation's asset base exceeds $100 million and serves over 300 nonprofit partners and 4000 donors. $48 million has been granted out to area nonprofits since inception.
As President and CEO of the Community Foundation she is able to work daily on her passion – inclusive communities that support and nurture families. Nancy brings together the energies and resources of nonprofit organizations, businesses and community volunteers to help increase awareness of the importance of giving back to the community and building connections that are critical to solving societal problems. What Nancy is most proud of is the systems change work that has tackled complex issues that communities are facing, such as Brain Health, Immigration, College Access and others. The Foundation also hosts the Inclusive Dubuque network and through people and partnerships, works to build communities where all can participate and prosper.
Nancy is passionate about her own children and all children. "I believe children are our future and we have a responsibility to raise them to be happy, healthy and ethical citizens." Nancy and her husband Mike have five children, a black Labrador puppy and were foster parents to twenty-four children.