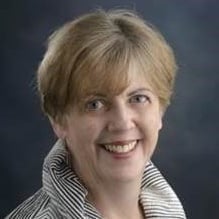 Karen Minyard
Karen Minyard, Ph.D., has led the Georgia Health Policy Center since 2001 and is a research professor with the Department of Public Management and Policy at the Andrew Young School of Policy Studies (Georgia State University). Her research/policy interests include financing and evaluation of health-related social policy programs; strategic alignment of public and private health policy through collective impact; the role of local health initiatives in access and health improvement; and the role of targeted technical assistance in improving the sustainability, efficiency, and programmatic effectiveness of nonprofit health collaboratives.
Dr. Minyard spent more than five years directing the GHPC's Networks for Rural Health Program. During this time, she was immersed in providing technical assistance to rural communities to guide them in conducting an earlier version of the local health system building that is currently needed. She was directly involved in assembling the information that rural providers needed including the integration of large data sets to provide strategic information regarding Medicare, Medicaid, and privately insured rural patient utilization patterns. She is currently the principal investigator on a technical assistance project with the Federal Office of Rural Health Policy that has provided relationship-based technical assistance to more than 1,200 rural communities in the U.S. and its territories.
She maintains her connection with communities by working directly with local health collaboratives and with numerous philanthropies and foundations, including the Philanthropic Collaborative for a Healthy Georgia, RWJF, the Pew Charitable Trusts, the Colorado Health Foundation, the Rippel Foundation, and others. She also serves on the executive trio of the Atlanta Regional Collaborative for Health Improvement, along with the Atlanta Regional Commission and the United Way of Greater Atlanta.