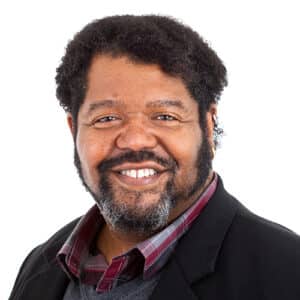 Calvin Allen
Calvin Allen is the Vice President of Programs and Partnerships. Prior to his promotion to this role at MDC, he was the Senior Program Director for MDC's Rural Forward program. He joined Rural Forward as its first director in October 2014. Calvin supervises staff, sets program vision and direction. He also cultivates and manages key state and national partnerships.
Prior to joining Rural Forward, Calvin worked in the nonprofit sector as an administrator, trainer, facilitator, advocate, and consultant, primarily around rural economic development. Most recently, he worked for the Golden LEAF Foundation's community grantmaking programs for three years as a program officer, and three prior years as a consultant. He was also the associate director at the Southern Rural Development Initiative, helping small towns become economically sustainable without having to become urban.
Calvin graduated with his bachelor's degree from Duke University in 1992 and is also a 1994 graduate of Leadership Durham. He received a certificate in nonprofit management in September 2004 and is a 2003-2005 graduate of the William C. Friday Fellow for Human Relations through the Wildacres Leadership Initiative. He continues to serve on the advisory board of the Friday Fellows Program.